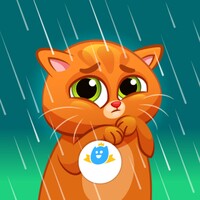 Bubbu
Play cute virtual pet games with my cat. Take care of a pet in fun kitty games!
Version: 1.101
Program available in: English
Program license: Free
Program by: Bubadu
OS:
Bubbu is an Android app developed by Bubadu (Bubadu GmbHGabelsbergerstrasse 59020 Klagenfurt am WörtherseeAustria). Others apps created by Bubadu are: Bubbu Jewels, Bubbu Restaurant, Bubbu School, Duddu My Virtual Pet, Pixie the Pony - My Virtual Pet.
Bubbu first became available on 30 Oct 2015. It is estimated that Bubbu has been downloaded between 100000000 and 500000000 times from the Play Store.

Programs similar to Bubbu